Architecture Student to BIM Manager in 2 Years with a Little Help from ARCHICAD
Jan Millán, a recent graduate and ARCHICAD user, is entering his second year of work at +HoyStarkHagan Architects. The Tallahassee, FL-based firm hired Millán as part of an effort to integrate ARCHICAD into the firm.
Millán charged ahead on a project as the firm adopted a new BIM workflow to their existing process. His willingness to put his ARCHICAD knowledge and computer literacy skills to the test has led to his earning the title of BIM Manager at +HSHA.
We interviewed him about his experience as a recent graduate (with ARCHICAD knowledge) and starting his career at an ARCHICAD firm. We hope his story will inspire other graduating students and get you excited to start your own careers!
GRAPHISOFT: What is your current Role at +HoyStarkHagan Architects?
Millán: As +HSHA's BIM Manager, I provide training to our staff, assist our teams with advanced modeling techniques, and provide IFC coordination for consultants. I develop and implement graphics standards, best practices, and templates. As one of the firm's Intern Architects, my regular responsibilities include design work, construction documentation, and construction administration.
GRAPHISOFT: What essential technical skill did you bring to the table?
Millán: I think the most essential skill for my current position is computer literacy. Being able to adapt quickly to new software, having a passion of learning the program in its entirety, and consistently researching new and improved ways of using its tools allow you the confidence to master any software. I love being able to share any knowledge I've gained with others.
I tried many of the industry standard programs in school, but ARCHICAD caught my attention. It is extremely fun to model, the layer and view map system made a lot of sense, and the graphic styling was far superior to the competitors. I particularly like the GUI and the appearance of the drawings on-screen and print. I immediately jumped in and modeled my old hand-drawn and CAD projects within weeks; I continued to use ARCHICAD for all my design studios that followed. I have not used any other drafting software since. The workflow of ARCHICAD encompasses everything you could ever need. Some classmates shuffled from AutoCAD to Sketchup while others drafted in ARCHICAD and exported to AutoCAD "to have better control of the line weight." I was drafting and outputting directly from ARCHICAD. The amount of content I was able to develop for each class helped me stand out amongst my classmates.
I think that the biggest mistake a student can make when they take a CAD class is to hesitate to do the assigned projects in the software being taught because they already know another software and don't want to learn new software while tackling the large workload in design studio. There's no better way to learn software than with an active design project that will provide you with countless solutions on how to do something. It's common for you to reach your first job and have no experience with a new software — in addition to dealing with a new WORK environment. Learning a new software application in a new work environment is a lot harder than learning it while in studio, where mistakes won't impact the well-being of the public.  
I completed ten ARCHICAD projects in school including a three-part capstone and a Construction Documents class. I had the modeling and layout elements set, but school projects are a lot more schematic than real projects — you detail less, you do what you want, and you have an unlimited budget and materials. It is the best environment in which to experiment and keep learning as you go. Working in an office quickly brings you back into reality — you have addendums, ASI's, working in teamwork files, file organization, detailed and accurate wall sections and details, schedules, etc.
Modeling barely scratches the surface of ARCHICAD's capabilities. There is no excuse not to learn ARCHICAD while enrolled in school. You can obtain a free license while studying and the GRAPHISOFT Help Center has an article on every single feature. Another great source is the ARCHICAD talk forum; I use it weekly to read about other user problems and questions. Most of the time I find questions I had not even thought of. I enjoy constantly trading techniques with friends and colleagues from other ARCHICAD firms.
GRAPHISOFT: Please tell us about your first few weeks at the firm, what was the on-boarding experience like? (on-boarding, meaning getting acclimated to the firm's workflow and procedures)
Millán: We were a Revit Firm. When I started, we only had one ARCHICAD license and a client that wanted us to provide further design on a file that was started by his project architect in another country. The file was completely in Dutch, so I spent half of my first week learning Dutch with Google translate to figure out what everything was. The layers, materials, object libraries, and everything under the settings for each object were ALL in Dutch. By my third week, a coworker that only had Revit experience and I started our firm's first ARCHICAD project from scratch. A week later, we plotted our first Schematic Design Set and the partners of the firm called a staff meeting to say, "Look at the graphics quality of this program! This looks amazing!" Today — 19 months later — everyone in the firm has been responsible for at least one project from Schematic Design to Construction Documents entirely done in ARCHICAD.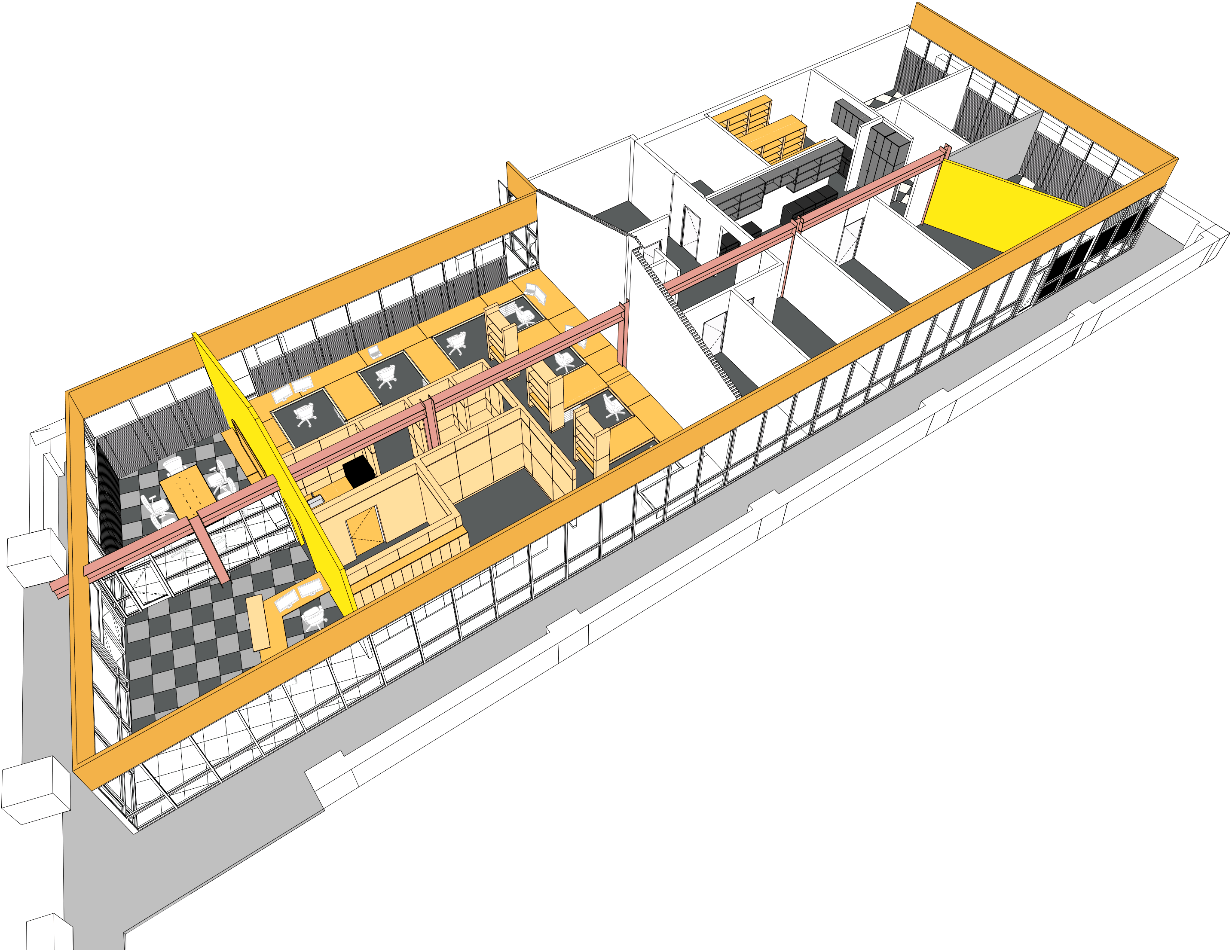 GRAPHISOFT: Did you seek an ARCHICAD firm for your first job out of college? If so, why?
Millán: ARCHICAD was the software I wanted to move forward with to help me succeed in my architectural career. There's nothing worse than going to work and using tools that you don't believe in, or worse, tools that don't believe in you. I feel that ARCHICAD has a whole community of people behind it, it's made by architects for architects, and when the users speak, GRAPHISOFT listens. I received a few offers from firms that were only Revit-based, but I wanted to be able to use ARCHICAD at a place where the firm culture appealed to me.
GRAPHISOFT: Were the skills acquired during college directly applicable to your current role?
Millán: Yes, I will forever consider myself a student. I have always been the type to sit down and not get up until the issue is solved. If someone can't help, I will continue to tackle the problem by myself. Without trial and error, I would not have the skills I have today. I like to think that school gave me the tools to be a good designer, but work is teaching me how to be a great designer.
GRAPHISOFT: How much re-learning did you have to do? Was your exposure to BIM up to date and current?
Millán: I have never stopped using ARCHICAD since I started. In school, I used it for all my design studios. I also modeled projects for people who were strictly CAD users and needed some assistance with 3D models, which gave me a great deal of exposure to the software. I enjoyed the challenge of learning elements that are required for the everyday work environment that I wasn't exposed to during school.